Giving to the SBC through the BGCT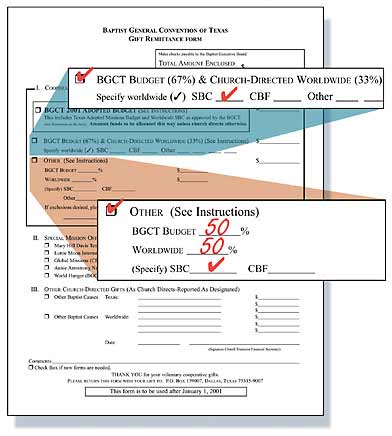 The following illustrations are to help your church as it decides how to support the Southern Baptist Convention Cooperative Program in light of the defunding of SBC ministries in the Baptist General Convention of Texas adopted budget (Texas Preferred Budget).
Sample 1
Giving through the Traditional Plan
The traditional Cooperative Program plan distributes 67% for Texas ministries and 33% for worldwide ministries. If the box beside "SBC" is checked, the Southern Baptist Convention Cooperative Program will receive that percentage of your church's gift for missions. Most churches have given by this standard method, which divides each CP dollar as below:

You can see even in this plan, the state convention ministries receive twice as much of the CP gift as the worldwide ministries.
If you want to keep supporting missionaries and seminary students as you have in the past, this traditional CP plan is a good choice.
Sample 2
Giving More to the SBC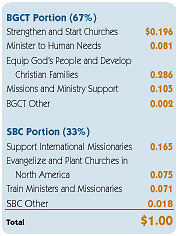 Some churches in Texas have inquired as to how they may give more than 33% of their CP gifts to the Southern Baptist Convention because they desire to give more to worldwide missions causes. To do this, check "other" on your BGCT remittance card, mark the "SBC" space, and indicate the amount of your check you want to be forwarded to the SBC. It can be as large a percent as you want. The BGCT has promised to forward it to us according to your instructions.
It is important to remember that the Executive Committee does not stockpile money or retain surpluses. Every dollar received is distributed to the mission boards, seminaries, and agencies within five days of its receipt.