Giving to the SBC through the SBTC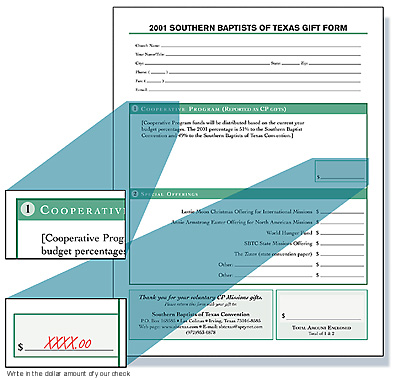 Some Texas churches are choosing to give through the new Southern Baptists of Texas Convention, which will forward 51% of your CP gifts to the SBC for all our ministries.
You may contact them at the following address, phone number, or e-mail address for the remittance form depicted here:
Southern Baptists of Texas Convention
P.O. Box 168585
Irving, Texas 75016-8585
972-953-0878
http://www.sbtexas.com/
sbtexas@sprynet.com
If you wish to give a larger percent to the Southern Baptist Convention (up to 100% of your church's Cooperative Program gift), the SBCT will handle this for you even if you are not affiliated with their convention. Simply contact them for instructions.
Some churches are choosing to send their CP gift directly to the Executive Committee of the Southern Baptist Convention for distribution to the SBC entities. Although Cooperative Program gifts from the churches traditionally come to us through a state convention, you can give directly to the Executive Committee if one of the other methods doesn't suit your needs. Simply send a letter with your first remittance indicating your church's decision to give directly to the SBC.
We know that your generous support for the Cooperative Program is voluntary, and we are grateful for it. And we pledge to be good stewards of every gift, using it in kingdom ministry on your behalf. If you have questions about your decision about CP giving, please call us at 800.722.9407.